We are preparing the program for the new edition. Meanwhile, you can see what we did in the previous edition so you can discover all the activities that take place during the Fair.
talks and conferences
Guided nature tours
gastronomic tastings
Family activities
astrotourism
children's workshops
Concerts
nature observation
Horse trails…
and sooo much more...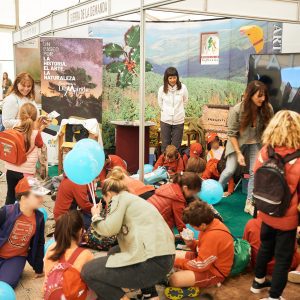 The Naturcyl Fair takes place in a privileged space in Ruesga (Pisuerga Beer, Palencia) rural nucleus south of the Palencia Mountain Natural Park, a natural space of great beauty on the Cantabrian coast.
By car
By the road P-212 from Aguilar de Campo about 25 km.
By C-626 from I keep, about 35 km.
by C-624 from saldana about 55 km.
by C-627 from Herrera de Pisuerga about 40 km.
by train
To the Aguilar de Campoo station (30 km to Ruesga). Visit the website of Renfe to check the best connections.
Information to elaborate
You can consult the tourist resources of the area in the information sites of
The Palencia Mountain is rich in gastronomy and has a heritage of traditional dishes and elaborations that you should take advantage of and get to know. In addition to hunting and fishing dishes, the area is known for its mycological resources, as well as for the quality of the famous Cervera meats.
you can discover unique restaurants where to delight your palate or let yourself be advised by the locals.